B E L Based upon Anarchy
(Basada En La Anarquía)
Action
We believe it's important to support proposals that stimulate true action, that's why we publish the following:
Boycott
We know this boycott can be done in any country since this world is ruled by injustice. Go ahead, join the boycott!
Harangue:
TO BE DISTRIBUTED.
Subject: INFORMATION; VERY IMPORTANT!!
Procter & Gamble enterprise has decided NOT TO EMPLOY any person from UNAM, WHOEVER HE/SHE IS!
This was published on press.
That's why, if you don't agree such prepotent and not-scrupulous decision I ask you NOT TO BUY, UNDER ANY SITUATION, any of the following products:
Cosmetics: Cover Girl, Max Factor and Oil of Olay.
Fragrance: Old Spice.
For hair: Head&Shoulders, Pantene, Pert Plus.
Soap: Camay, Zest, Safeguard, Ariel, Ace, Salvo, Bold3, Downy.
Vick Products.
Cleaner: Maestro Limpio.
Towels: Always o Tampax.
Infancy: Pampers, Baby Fresh.
Medicines: Pepto Bismol, Metamucil.
Deodorant: Secret.
Tooth paste: Crest.
Potatoes: Pringles.
Clearasil.
Chloraseptic.
They are a lot of products, however, every one has a substitute and I hope this allows to boycott Procter & Gamble and make them see their stupidity!
Even you don't agree this proposal, please forward this message for people to know about this situation.
Víctor Hernández
Library "Raúl Bailleres"-ITAM
Celular Organization
Coordinación Ciudadana invites you to conform a self-doing cell by means of a promoter. Call 5617-0619 and ask how you can be organized.
Cultural Market
We count on your participation every Sunday for doing this market, which main goal is to promote spaces and have an artistic, cultural and social expression forum where everybody can show his/her concerns.

On Ecatepec, Av. R-1 s/n col. Primero de Mayo between Bachilleres 19 & Col. Río de Luz.
If you take the bus that goes to jardines río de luz at subway station Indios Verdes, Letter A you must get off at the church of río de luz, and walk towards Bachilleres 19.
If you take the bus that goes to bachilleres -pirámide at subway station Moctezuma you must get off before bachilleres 19.
No violence! No indifference! No apathy! No drugs!
(All together to rebellion. All together to disobey. Let's make of fighting our way of resistance)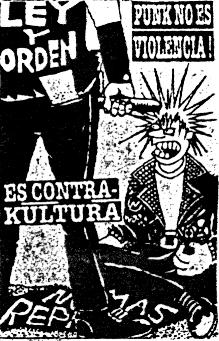 Invites:
Pensamientos Unidos
CGH-UNAM & BOS
11:00 hrs.
producing and promoting punk culture!
---
Site maintained by BELA
Last modified: April, 2000
In a free world there is no censure